FJR Tree Inc. serves the greater Chicagoland area with a variety of lawn care services including expert tree removal, stump grinding, tree pruning, and a variety of plant health care services. All services are done with the optimum goal: to keep your trees healthy and looking their best.
Plant Healthcare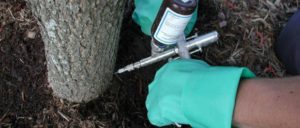 Plants are living, breathing things just like humans and many people only think about treating them when they're in trouble.  We make sure to take our vitamins and eat healthy food to perform at optimum efficiency and stave off illness, so why wouldn't you do the same for your trees?  Some aspects of plant healthcare are:
Tree/Shrub Identification
Insect/Disease/Fungal Prevention and Treatment
Girdled Root Analysis, Pruning, and Excavation
Soil Analysis
Growth Regulator Treatments
Read up and then let one of our arborists help you develop a plant healthcare program to preserve the life of your landscape!
Tree Removal
Tree removal is the process of removing a rooted tree from the ground. They occur, or are requested from our clients, for a multitude of reasons, such as:
The tree is in poor health or is diseased

The tree is simply not desirable

The tree is a hazard

To make room or clear a space

The tree is in a bad location

To plant something else in place of the tree
There are a multitude of potential risks involved when removing trees around people, structures, or other inanimate objects, but we are accustomed to working around these obstacles on a daily basis.  We always have several climbers on site and are also adept at crane assisted removals.  It is always our goal to keep impact on the property to a minimum; we aim to leave the site cleaner than we found it.
Tree Pruning
Keep your trees looking their best by keeping them pruned to perfection. Properly pruned trees not only maintain a well-managed appearance, but they also live longer. Tree pruning:
Improves the health of the tree

Reduces the instances of disease

Improves air circulation

Keeps the tree protected from potentially damaging weather
Tree pruning can be quite subjective.  Therefor, we always meet with our clients to discuss their goals and make suggestions as to what we feel is best for the health of the tree.  Every species requires specific pruning prescriptions due to different growth characteristics and habits. Typically, less is more with tree pruning, but this is not always the case; every branch should have a proper reason for removal.  The end result is a beautiful, healthy pruned tree. No matter the size or shape of the tree, we have the skill set to prune both large mature trees and small ornamental species.     
Stump Grinding
Tree and shrub stumps can be an unsightly space-waster for any yard.  They can also damage lawn mowers and become hazardous obstacles if not removed. Instead of doing yard work around stumps, many property owners opt to have them removed.
We are equipped with a remote operated stump grinder that will leave your lawn a seamless turf and ready for new possibilities.
Firewood
There's nothing better in the brutal winter months than having a nice warm fireplace to rely on.  Click here for more information